Last updated 06 September, 2002.
Latest pictures, click here.
Note: I've resized the images to make them download faster. Even the full-sized images are a lot smaller than they used to be. They'll look fine on screen and will print okay, but not great. If you want full resolution images for high-quality printing, drop me an email to let me know which pictures you want.
July 2002
July was a busy month!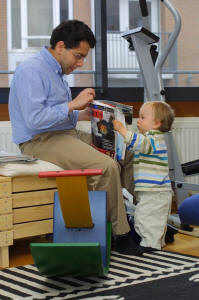 Ali and I read a "Focus" together.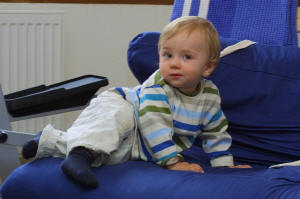 Still working on that beefcake pose!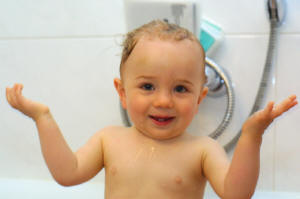 What?!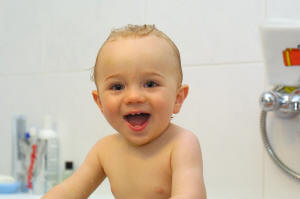 I like bathtime!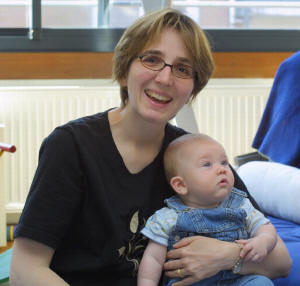 Andrew David came over to visit...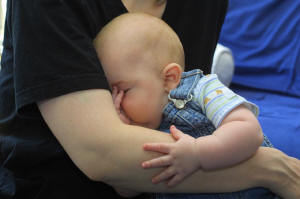 Andrew David is fast asleep!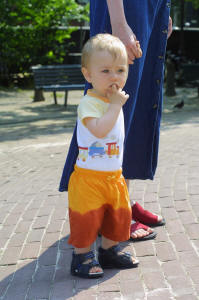 Dad picked out the pants.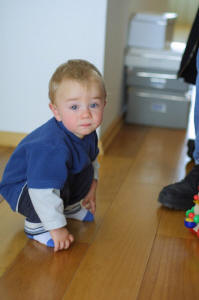 Here's my patented squat.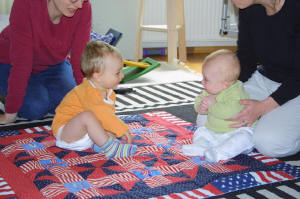 The visitors just kept on coming!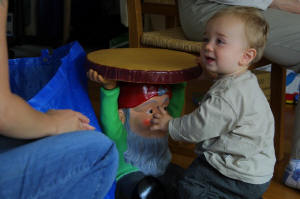 Dad bought this table for Mom. He's such a goofball.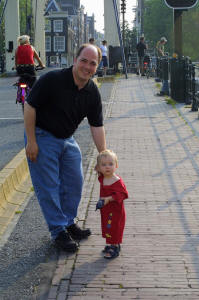 We all went for a walk with Constanze, one nice day.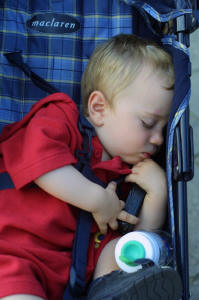 I fell asleep cradling Dad's phone.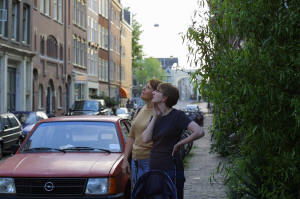 While Mom and Constanze checked out the buildings.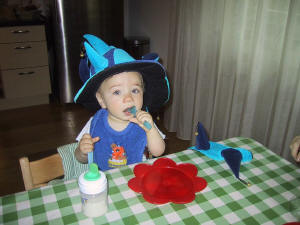 Aren't I dashing?! Dad got this hat in Cologne.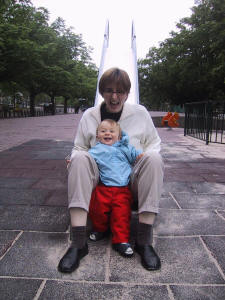 Mom went down the slide with me. What fun!!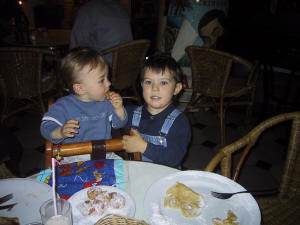 I shared Poffertjes with Luke.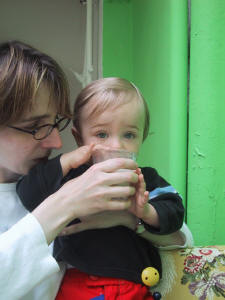 And we ate at the new Bakkerswinkel (on the Warmoesstraat).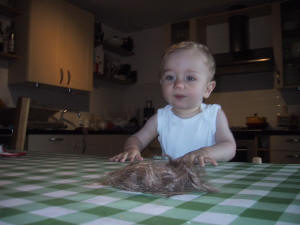 After all the French people told her she had a cute little girl, Mom cut all my hair off.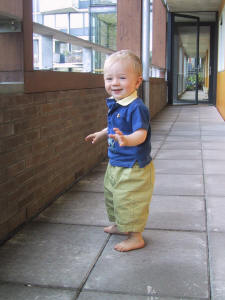 I love going for walks!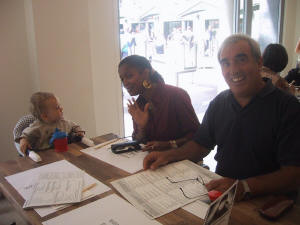 This is our goodbye lunch with Linette and Paolo.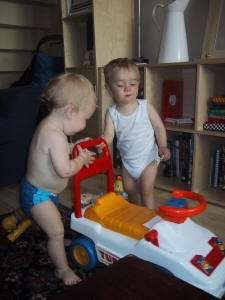 And our last visit with Kyna and Nyah.
Goodbye Dinner with Pat and Dave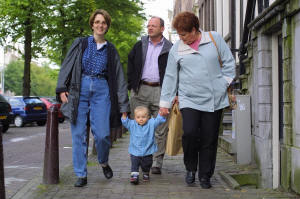 For our goodbye dinner with Pat and Dave (we miss you!) we walked to the Hard Rock Cafe.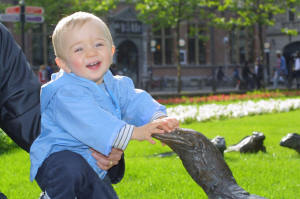 Along the way, we stopped to play with the lizard statues in the Leidseplein.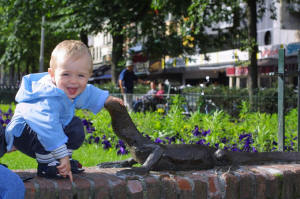 They were lots of fun!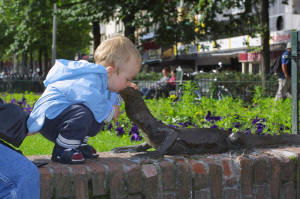 "Tastes like chicken!"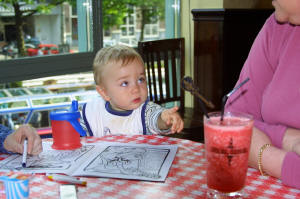 Pat wouldn't let me try her Margarita.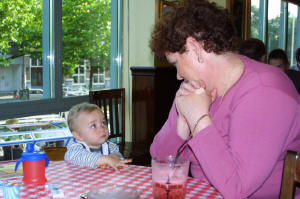 Even my Bambi eyes didn't work. Sheesh.
Pat and Dave gave me lots of cool presents!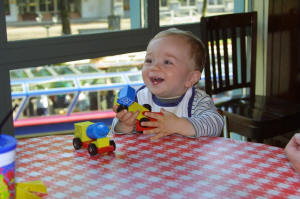 _Three_ toy trucks. What fun!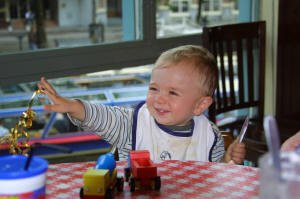 "Dude!"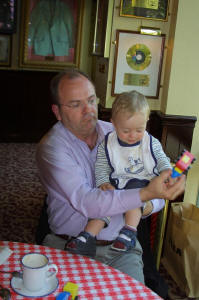 Nice catch!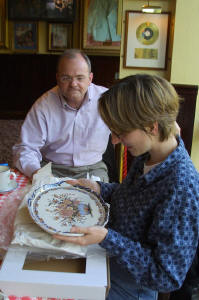 Mom got some nice presents, too.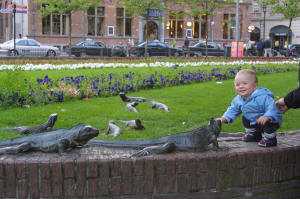 On the way home, I played with the lizards some more.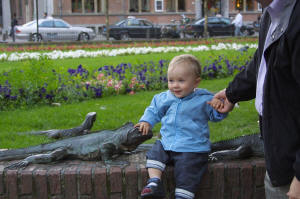 Mom was happier once I was off of the wall.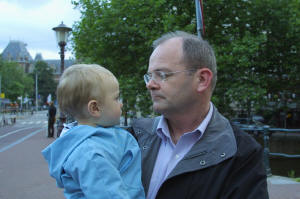 By this time, I was tired...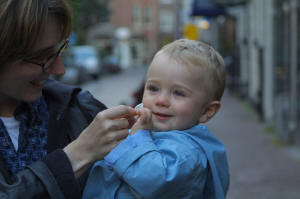 ...so they took turns carrying me home. What a fun night!
Beate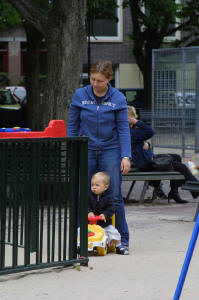 Beate took me to the playground at the Amstelveld, and one of the other kids let me ride on his car!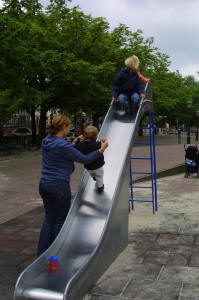 Then we walked up the slide. "Hey! Watch out!"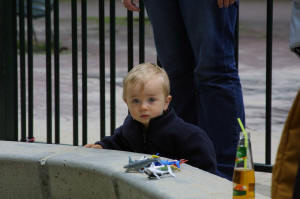 The sandbox was fun! One little boy left his plastic animals where I could reach them...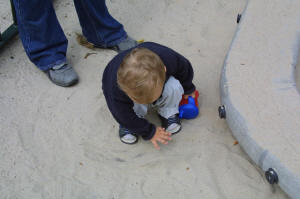 The sand was pretty interesting too.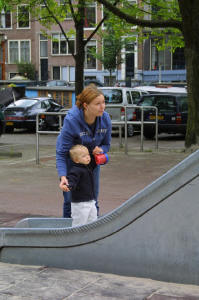 Once more onto the slide!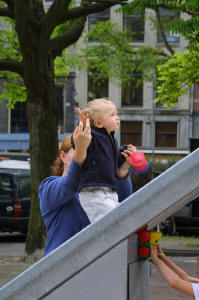 Up we go!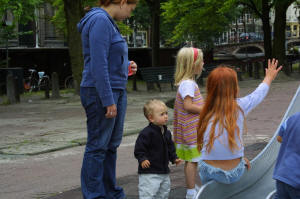 This little redhead was bossing everybody around and hogging the slide.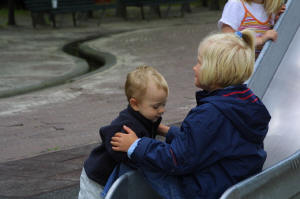 But this sweet little blonde girl smiled at me. So I gave her a hug.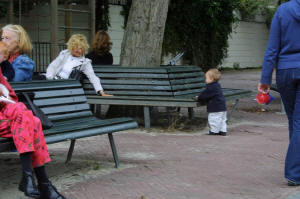 The girls were busy on the slide, so I went to flirt with the Mom's instead.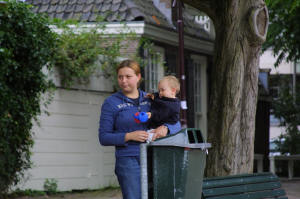 Beate takes great care of me.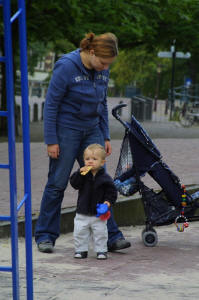 She even brought Sultana's for me. Yum!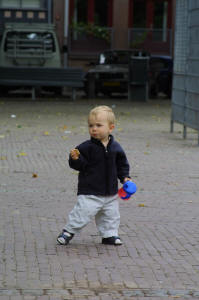 That gave me enough energy to play some more.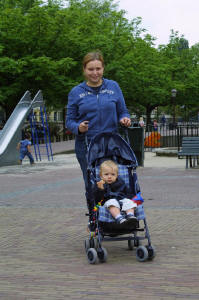 But it wore off eventually. Time to go home!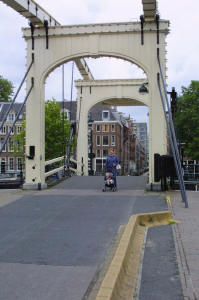 Here we are on the bridge. Almost home!
Trip to Paris
Mom and I went to Paris for a few days.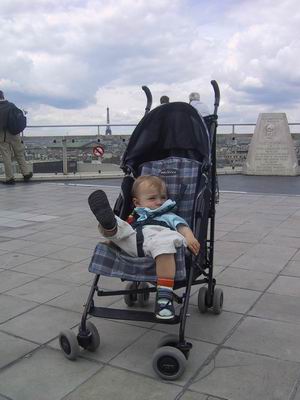 Click on the picture above to see more photos from Paris.
A Visit to Waldmohr
We all drove down to Waldmohr for the weekend to see Dorla and Eugen.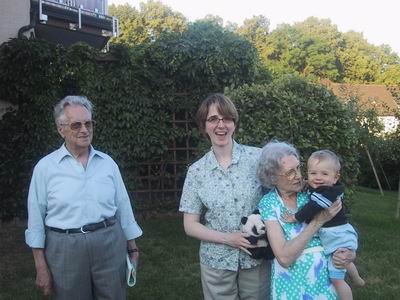 Click on the picture above to see more photos from Waldmohr.
Pancakes with Constanze and Ali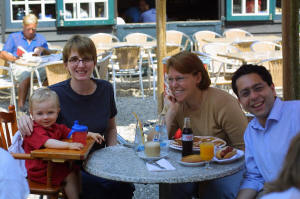 Cheeeeese! (On my pancake, that is)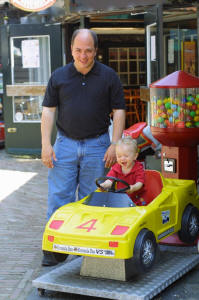 Vrooooom!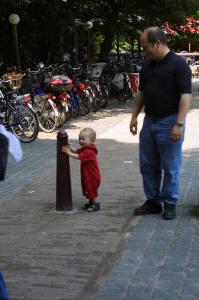 Look at me! I'm an Amsterdammetje!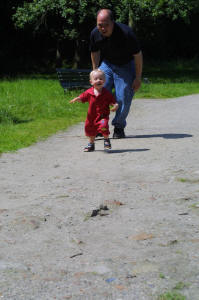 "I'm gonna getcha!"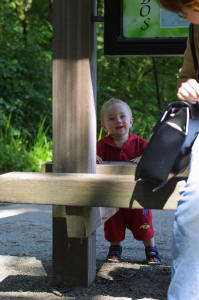 "Peek-a-boo!"
Packing Up:-(!
What a cool box!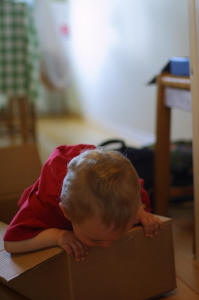 Now is it a time machine, or a spaceship. I'd better check the sign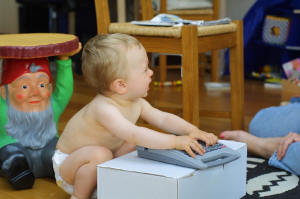 Look at all those buttons!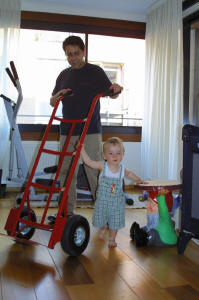 I showed Ali how to play with the hand truck.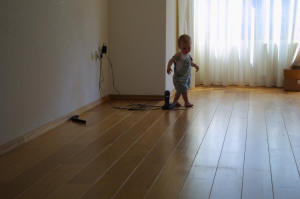 Finally! I could play with the phone.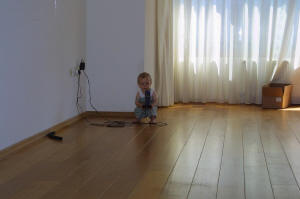 It was fun to balance!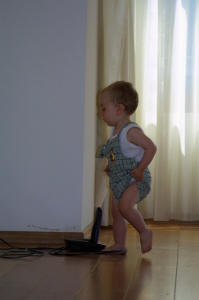 "These diapers are a little loose!"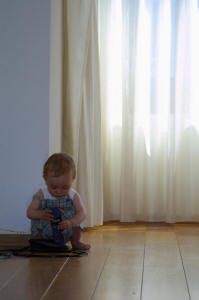 Let's see if I can get it back in the cradle...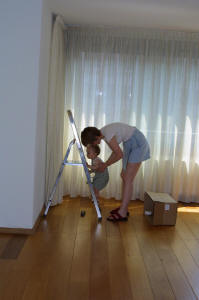 "Aw, Mom! You didn't even get to see my cool trick!"