Last updated 10 June, 2002.
Latest pictures, click here.
Note: I've resized the images to make them download faster. Even the full-sized images are a lot smaller than they used to be. They'll look fine on screen and will print okay, but not great. If you want full resolution images for high-quality printing, drop me an email to let me know which pictures you want.
2 April 2002: Spring has sprung!
The weather is finally turning nice and Amsterdammers (and tourists) are returning to the streets.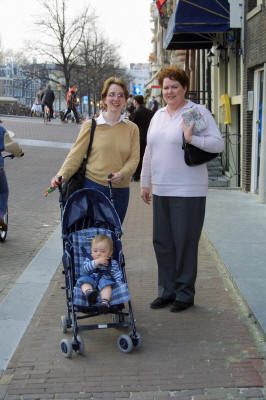 We met Pat for a stroll and a coffee.
3 April 2002: Artis (the zoo)
The weather stayed lovely, so we met Thea's friend Meredith and Meredith's son Nick for a day at the zoo. Dad took enough pictures for a whole separate page, so click on the baby giraffe to see them.
See this cute hat Mom made for me? Take a good look at it here, because you won't be seeing it again -- it didn't return from my last trip to the mall with Dad.
The weather was nice enough that we went to the Pancake Bakery in the woods and sat outside. Twice!!
A Visit To Regensburg and Horizonte
Dad went to German Language school at Horizonte in Regensburg. Mom and I flew down to see him for a few days and we drove back with him. Regensburg was fun -- I got to walk on cobblestones, see the spot where Dad proposed to Mom, and look at some nice fountains:
Dad has more pictures of Regensburg in a gallery on his web site.
Regensburg was nice, but Horizonte was even better! The room was fun to explore and Dad bought me a Lumibär (Mom was thrilled). I made lots of new friends and had a blast running around the corridors. There was so much to explore!
Dad has a Horizonte gallery on his website, too.
Schloß Neuschwanstein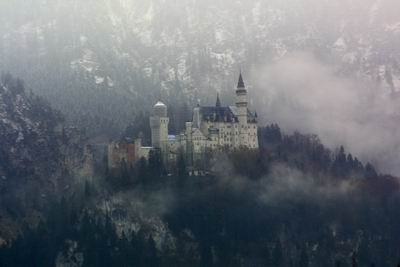 We drove down to see the "Fairytale Castle" on the weekend. Click on the picture above to see a gallery of pictures from Dad's site.
25 April 2002 - Keukenhof Gardens With Ali
We went to tiptoe through the tulips at the Keukenhof Gardens again, this time with Ali. It was lots of fun this time, too.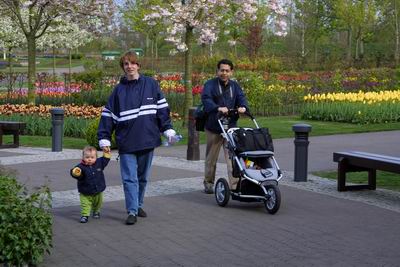 Click on the picture above to see a gallery with lots of pretty pictures from Mom's web site.
30 April 2002 - Queen's Day
Ali came over on Queen's day. The street celebrations were fun, though the free market was smaller than last year thanks to the rain. Mom, Dad, and especially Ali _really_ liked the Köfte from the stand on the Keizersgracht. Back home, Ali and Thijs played for a while and Ali read him his new book ("Hops, das Kaninchen").