Last updated 10 June, 2002.
Latest pictures, click here.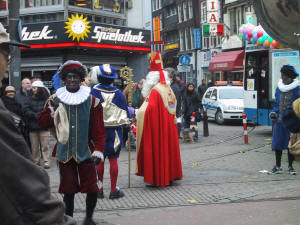 Thijs went for a walk with Dad just before St. Nikolaas day, and we stumbled across the Sint and his merry band.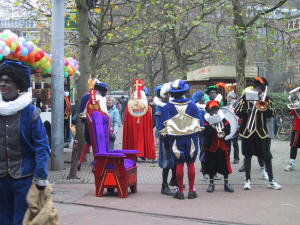 There was lots of frolicking, and Pepernoten for everyone.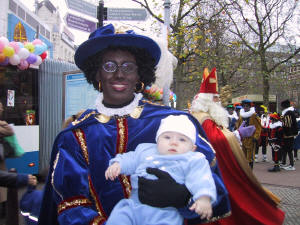 Thijs got to hang with a Zwarte Piet
And with the Sint himself. He _really_ liked the beard, because it was so easy to get a good, solid, immovable grip on it.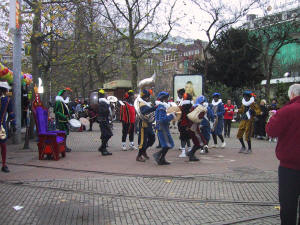 Here's the band (ha ha) of Zwarte Piets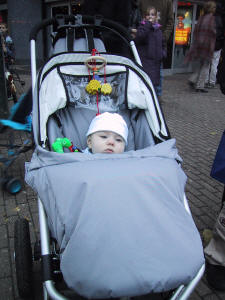 Whew! That was exhausting.
5 December 2001
We had our six month visit to the Consultatiebureau today. Here are the numbers:
| | | |
| --- | --- | --- |
| Weight: | 6950g | (15 lbs 6 oz) |
| Length: | 67cm | 26-3/8" |
| Head Circumference: | 43.5cm | 17-1/8" |
Throughout December: Food, Food, Food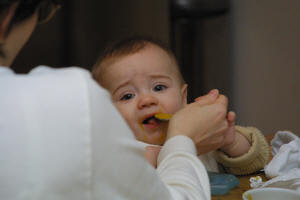 We tried a whole bunch of new foods this month. Some took a bit of getting used to.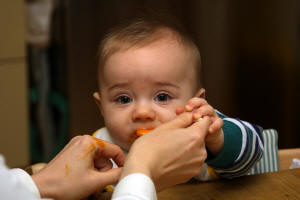 Carrots are still his favorite!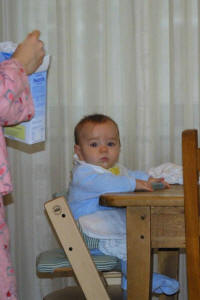 Mornings, on the other hand, are not. That must be genetic.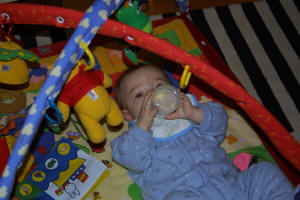 He's also learning to take a bottle, but only when he has to.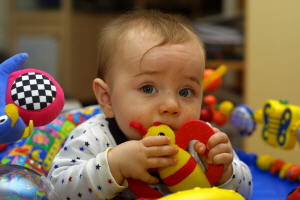 Nope. Can't eat the busy bee!
Throughout December: Bath time!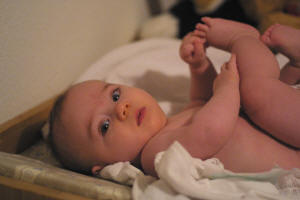 Getting undressed while the tub fills up...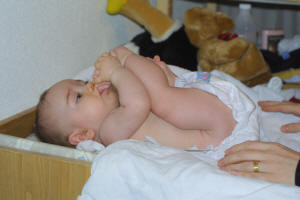 Mmmm! Tasty tiny toes!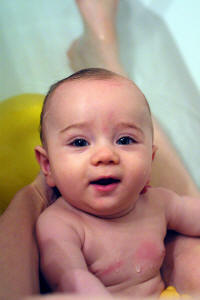 Bath time is one of Thijs' favorite things, _especially_ bath time with Mommy. He gets spastic with joy when he sees a half-full tub.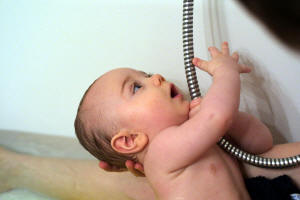 If he pulls hard enough, the shower head will fall on him, so of course the nice shiny hose is the first thing he heads for.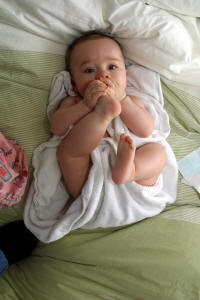 After the bath, we get dressed and ready for bed. Those tiny toes are still tasty, even when they're wrinkled.
Throughout December: I Think I'll Go For a Walk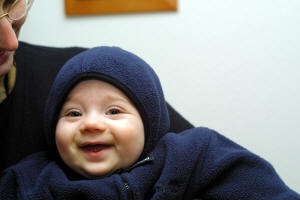 Meet the newest Teletubby.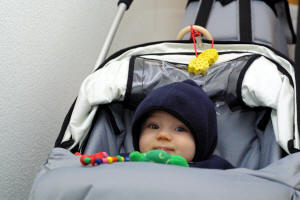 Getting dressed can be a chore, but Thijs perks up once he realizes we're going out for a walk. So many interesting things to see!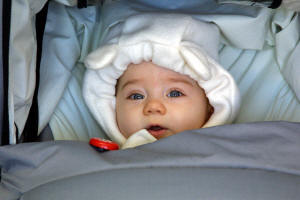 Thijs' cute little polar bear suit leaves a trail of smiles wherever he goes!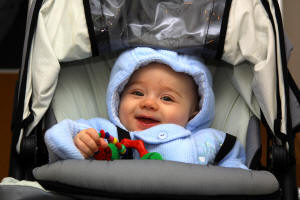 But some of the other jumpers are a bit warmer. Mr Inchworm is his constant companion for strolls, though.
Throughout December: Misc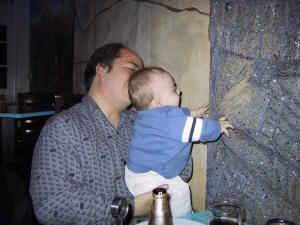 For Erik's birthday, we went to Los Pilones. Los Pilones is new, and it's the first (and only) Mexican restaurant in Amsterdam that is owned and operated by actual Mexicans. The food was great, but Thijs was fascinated by the fake stone walls.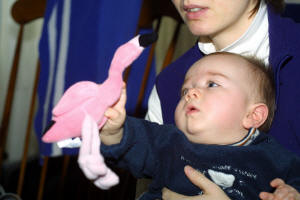 One of Thijs' gifts is this stuffed flamingo, which came with a very cute board book. Thijs likes the Flamingo because it's so colorful and easy to grab.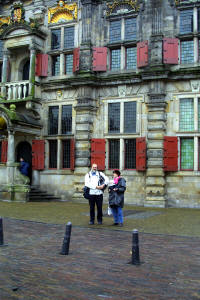 We went to visit Erik's friend Paul in Delft. Here they are in front of the city hall (?).
Here's a closeup so you can see them. Paul ordered a Delft "birth tile" for Thijs. It's a wonderful gift, and we're all delighted!